Definition:
The thrusting vibrator is a kind ofvibratorthat doesn't just vibrate but also moves up and down imitating an inserted penis. It is an automatic thrusting sex toy that provides powerful stimulation to your clitoris, anus, or vagina by up and down action.
A thrusting vibrator usually comes in various shapes including the traditional dildo-shaped thrusting vibrator, the butterfly vibrator, the thin thrusting anal vibrator, and the classic thrusting jack rabbit vibrator, also known as the thrusting rabbit vibrator. You'll also find it comes in multiple colors and sizes, textures, and decorations.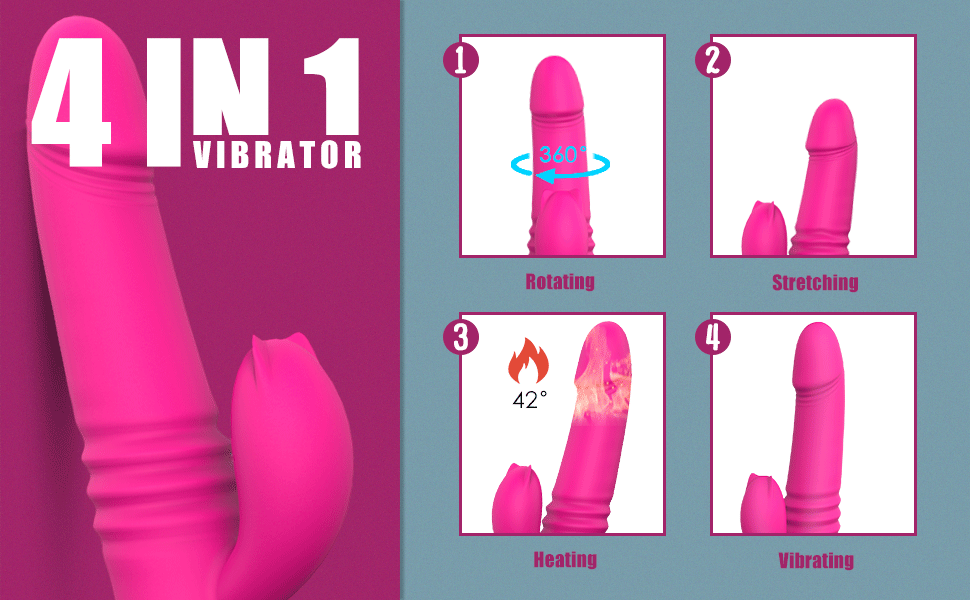 Thrusting Vibrator VS Thrusting Dildo
The basic point of a thrusting vibrator is that it thrusts while it's inside you. Thrusting dildo is named after its dildo-shaped appearance and it's a typical type of thrusting vibrator collection.
Besides the outlooks, there are some other small differences in functions.
For example, a thrusting rabbit vibrator provides both clitoris and g point pleasure but thrusting dildo cannot do like that. Thus, thrusting dildo is the perfect option only for those who like concentrated stimulation on the g spot.
Thrusting vibrators broke the limitation of the typical sex toys for women, adding extra fun on clitoris, anus and g spot areas for females. If you prefer intense vibration and inner movement during masturbation, the thrusting vibrator must be your best erotic accessory to have a powerful orgasm.
Pros of Thrusting Vibrators:
1. Affordable - Most thrusting vibrators are made of silicone material, they're durable and cheap. Almost all people can afford them.
2. Easy to Use / Hands-Free - Thrusting vibrators move faster than those controlled by hands, stick in and turn on the thrust motion, you can free your hands after the thrusting vibrator is in its place.
3. Easy to Clean
4. Multiple Shapes to Choose - Looking through Amazon or other official websites, you'll have plenty of choices. Research before purchasing and you can choose the one you like the most to start.
5. Easier to Reach the Top - Compared with other traditional vibrators like g spot wands, thrusting vibrators offer deeper sexual arousal.