Guide for Buying Butterfly Vibrators
The butterfly vibrator is a kind of clitoral vibrators in the shape of a butterfly. Generally it goes with adjustable straps on the woman's waist and hips, so we also call it butterfly strap on vibrator. Butterfly vibrator is usually small and less powerful than other G Spot vibrators, but it can stimulate the entire area of the female genitalia with the butterfly wings design. Although there are other designs like dolphins vibrator, birds vibrator, flowers vibrator which play the same function, butterfly vibrator is always the most popular one. 
Pros and Cons of Buying a Butterfly Vibrator
1. Vibrating Panties
To put the butterfly vibrator on a sexy panty, then a vibrating panty is coming out. Vibrating panties are usually remote controlled by a smartphone or blue tooth, so it's the best sex toy for couples fun. Let your partner control the remote to seek different pleasure in sexual life. With a whisper quiet function, the vibrating panties are so convenient for outside play. Enjoy it in the woods, in the office, car, or even a supermarket, imagine how exciting it would be!
2. Price ranges from low to high

At Sohimi, we have all kinds of butterfly vibrators which varies in different prices($26.99-$39.99). Absolutely you can find one fits your budget.
3. Multiple Usages

As it is in a butterfly shape, so many girls choose it as their first vibrator. You can use it at home or outside. The butterfly vibrator might not be the most powerful vibrator, but it is really silent, so you can have fun with a strap on at any place you like!
4. The straps might be uncomfortable

The straps attached to your hips may cause uncomfortable feeling, but choose a high-quality strap will improve this problem to a certain extent.
Simply Classify Butterfly Vibrators into Several Groups
1. Butterfly Kiss Vibrator
If you prefer light and simple vibration, the butterfly kiss vibrator is your best choice. It is a great first time sex toy for beginners because it looks cute and easy to operate without complicated functions.
The simple, light pink or purple Butterfly Kiss vibrator is a common way for couples to enjoy mutual clitoral stimulation and get in the mood for sex; a perfect addition to playful foreplay!
2. Butterfly Dildo Vibrator

A butterfly dildo vibrator is designed for vaginal inserting action, and it is including two parts: an external part(dildo vibrator) and an internal part(butterfly clit vibrator). With the internal part which shaped like a penis stimulating the G spot and the external part laying against the clitoris, both the vagina and the clit are stimulated at the same time, you can get a complete sexual experience and quickly reach the top.
3. Venus Butterfly Vibrator

Venus butterfly vibrator is one of the original wearable strap on vibrators for a woman.
4. Remote control butterfly Vibrator

Compared with a traditional butterfly vibrator, a wireless butterfly vibrator is a more automatic sex toy for women. With a remote controller, you can control it easily through a tiny controller. It's more widen used by couples seeking fun outside. With one partner holds the controller, another wears it in the secret area, you can find a screaming fun of that!
At Sohimi, you can absolutely find the best panty vibrator!
5. Butterfly with clit sucker or clit tickler

As the production technology of the merchant becomes more and more refined, butterfly vibrator with other functions shows up. With a licking or sucking function, the pleasure is doubled, and you must like it more than that with only one penetration head.
6. Vibrating Butterfly Ring

It is common in couple sex toys, usually combined by a cock ring and a small wearable vibrator. The cock ring can massage the penis, making it harder and stronger. At the same time, the hard penis inserts into the vagina with the vibrator together, you can feel the stronger stimulation with double penetrations.
Top 4 Butterfly Vibrators at Sohimi
#1 Sohimi Remote Control Wearable Vibe
Dual Motor&Double Excitement:G-spot and clitoris are stimulated at the same time, you will can't help but want to scream.The clitoral vibrator massager part is covered by particles, increasing friction and giving you more sexual pleasure,you will reach orgasm more easily.
#2 Sohimi ANGELA Wearable Sucking Vibrator
This vibrato with upgraded Silky Matte Silicone - Pretty good texture couple sex toy made of food-grade silica gel, safe and comfortable material. Easily insert and remove, dust-proof, easy to clean. Portable clitoral stimulator, USB magnetic fast charging provides you with long-term uninterrupted enjoyment.
#3 Sohimi Licking Sex Toy | Butterfly Vibrator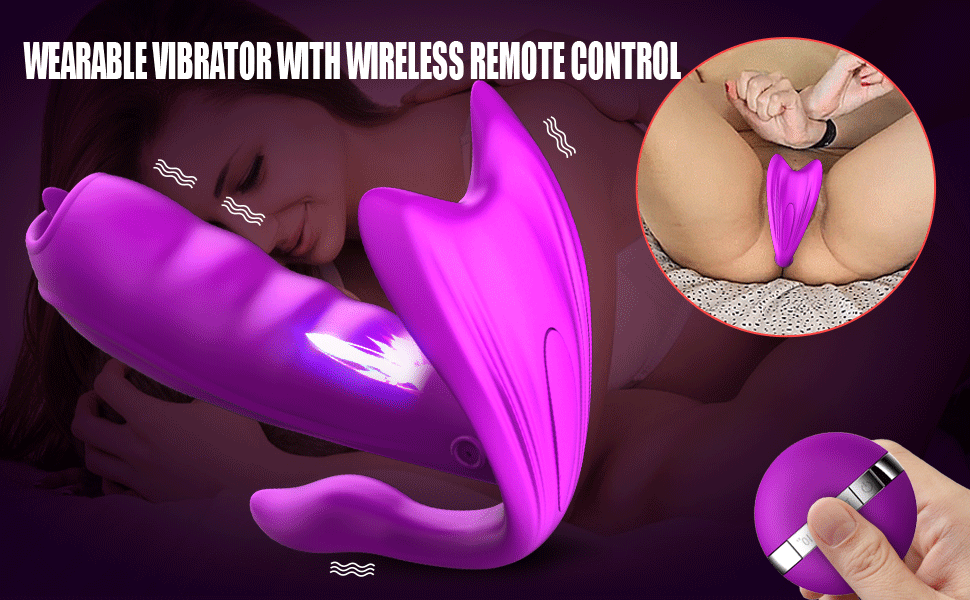 This butterfly vibrator has a flexible 
tongue, you can wear it in the panty or just stimulate the clitoris with its soft tongue.
#4 Sohimi Wearable Butterfly Vibrator
This vibrating butterfly ring is not only a vagina massager, but also an anal vibrator. With its multiple functions, you can stimulate clitoris, vagina, anus, nipples at your will. Whisper quiet, making it the best choice for outdoor adventures.
How does the Butterfly Sex Toy Work?
Compared to ordinary plug in vibrator which directly touch the G Spot, butterfly vibrator provides directly stimulation on the clitoris. With a wide wings, the gentle vibration is enough to reach the entire area of genitals. You can feel so amazing when the butterfly vibrator touches your clitoris softly and provides firm pressure constantly.
At Sohimi, most of our wearable vibrators are made from high-quality silicone, soft, stretchy and feels like real skin. With super durable material, you can try any position with Sohimi's butterfly vibrator as you like!
What's the Difference Between Butterfly Sex Toy and Other Kind of Vibrators?
Have you tried a butterfly vibrator? Well, as previously stated, there really is no wrong way to use a vibrator. Whatever feels good, feels good! There's no arguing that. But butterfly vibrators were designed for a specific purpose, so to help you figure that out we've summarized how it is intended to be used by the manufacturer because how you want to use a Rabbit vibrator or Bullet Vibrator is a little different from how to use a butterfly vibrator.
Butterfly Vibrator is as small as a bullet vibrator, and both of them are silent designed. The different feature is that the butterfly vibrator is specially designed for outdoor fun. Wearing a butterfly vibrator and go to the public, giving you unimaginable excitement, it's much better than an ordinary secret sexual masturbate at home.
How to Put on the Butterfly Vibrator and How to Use it?
1. Put on the straps attached to your waist or hips.
2. Adjust it and Tight the straps to your hips or waist.

3. Relaxed and lay the vibrator in between your lips.

Put some lube on the toy to make it smooth enough to go into your body.
Note: : If there's no insertable shaft on your butterfly sex toy, do not use lube! Applying too much lubricant on the vibrator will cause the vibrator to slip out of your vagina. Use the butterfly vibrator dry when it's outside of the body. Lubricate the shaft only!
4. Position the toy at the right place.

Make sure the butterfly vibrator is tightly fit to the vagina wall, and the wings fit tightly against your clit. Only that can double the pleasure and take you to a new world!
5. Turn it on and enjoy!

Turn the "on/off" button on, experience the basic vibrating modes quietly. Switch to a next mode and try each mode you like. Choose the one you like the most and enjoy the constant stimulation, you will come to the top after a few minutes.
Tips: Remember to clean the butterfly vibrator before and after using!
Butterfly vibrator at Sohimi is a waterproof vibrator, so it's easy to clean it thoroughly with soap water.
In Conclusion
Butterfly vibrator is an addition to your collection of dildos and othere ordinary vibrators, and we provide various styles and choices at Sohimi. Find the best butterfly vibrator here!
MY BAG
Your shopping bag is empty.
SHIPPING INFORMATION
Our goal is to offer you the best shipping options, no matter where you live. We deliver to hundreds of customers across the world every day, and we strive to provide you with services of the highest level.
The time frame of an order delivery is divided into two parts:
Processing time: 1-2 Days
Shipping time: 3~30 Days (depending on specific products and delivery location)
Shipping methods: UPS, USPS, Amazon logistics, DHL etc. 
Shipping fee is $6.99
Free shipping for orders over $99 (

Only for the USA

); 
Note: Affected by Covid-19, there will be some delay on the delivery.
Drop Us A Line
We're happy to answer any questions you have or provide you with an estimate. Just send us a message in the form below with any questions you may have.